This Step by Step Guide to Rolling Fresh Spring Rolls will help you to learn how to make your own fresh spring rolls at home, so you can have perfect rolls every time. Naturally vegan, gluten-free and low FODMAP, these veggie-packed spring rolls are bursting with flavor and nutrition and are sure to impress all of your dinner guests.
HOW TO ROLL RICE PAPER ROLLS
You may have had fresh spring or summer rolls at a Chinese or Vietnamese restaurant before but did you know that there is a difference between the commonly known spring rolls and Vietnamese spring rolls?
Spring rolls have a looser definition. They can be fresh or fried, and originate from many different countries, while summer rolls are almost always served fresh, raw, and originate from Vietnamese cuisine.
SPRING ROLL OR SUMMER ROLL?
Many people use the terms spring and summer rolls interchangeably, but for this post, we will be focusing on making fresh, not fried, spring rolls.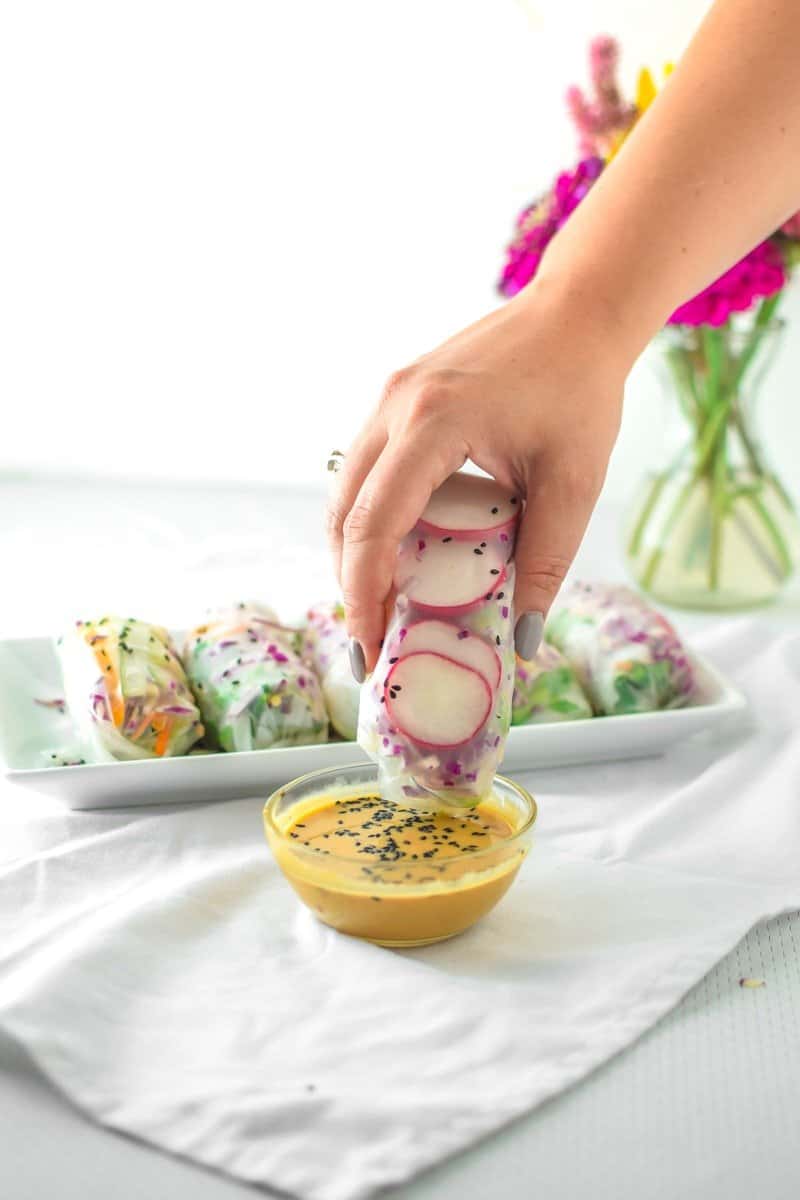 THERE ARE SO MANY REASONS TO LOVE FRESH SPRING ROLLS:
They are a delicious way to get in two or more servings of vegetables.
They are a perfect meal idea for Meatless Monday or any day of the week.
They are SO versatile, you can add just about any ingredient you would like. Even the pickiest of eaters can't complain!
You can even set these up buffet style and let everyone in the family make their own, which helps to encourage kids to make and enjoy new foods as well
I personally make this recipe at home all the time, and I LOVE to use this recipe in my live cooking demos.
Everybody is always so excited to make them!
BUT – everyone is always intimidated to make them the first time, which is why I love to teach people how easy it truly is.
So sit back and relax, have no fear, this post contains EVERYTHING you need to know about how to roll your own dinner, perfectly – every time, including step-by-step picture instructions, and helpful tips and tricks.
THE HEALTH BENEFITS OF ROLLING YOUR OWN FRESH SPRING ROLLS
The beauty of rolling your own spring rolls at home is that you can add any ingredient that you want and customize them to any dietary or flavor preference you may have.
From the wrapper to the sauce you dip it in, everything is customizable. You can find many roll recipes online for inspiration as well!
SPRING ROLLS ARE MADE WITH RICE PAPER WRAPPERS
At the most basic level, the only thing you really need to get started rolling your own spring rolls is a rice paper wrapper which should be made of a few simple ingredients, most commonly rice flour, tapioca starch, water, salt.
This means that the rice paper wrappers are naturally vegan, dairy-free, gluten-free, low FODMAP, and free of the top 8 most common allergens: dairy, wheat, eggs, fish, shellfish, tree nuts, peanuts and soy.
Each wrapper contains approximately 30 calories, 13 grams of carbohydrates, 1 gram of protein and no fat, although exact nutrition will vary from brand to brand depending on what is available at your grocery store.
SPRING ROLLS ARE PACKED WITH VEGETABLES
The second standard ingredient that gets added to fresh rice paper rolls is vegetables and fresh herbs, two of the most nutritious fresh food options available.
While the nutrition will vary depending on the vegetables that you choose to use, all vegetables are typically still a highly nutrient-dense, high fiber addition to this meal.
Most vegetables contain a high concentration of the different nutrients we need for optimal health, including vitamins, minerals, phytonutrients, and antioxidants.
Consuming just two vegetable rolls is an excellent way to get in two of the recommended servings of vegetables each day. The more veggies you add, the healthier these rolls will be!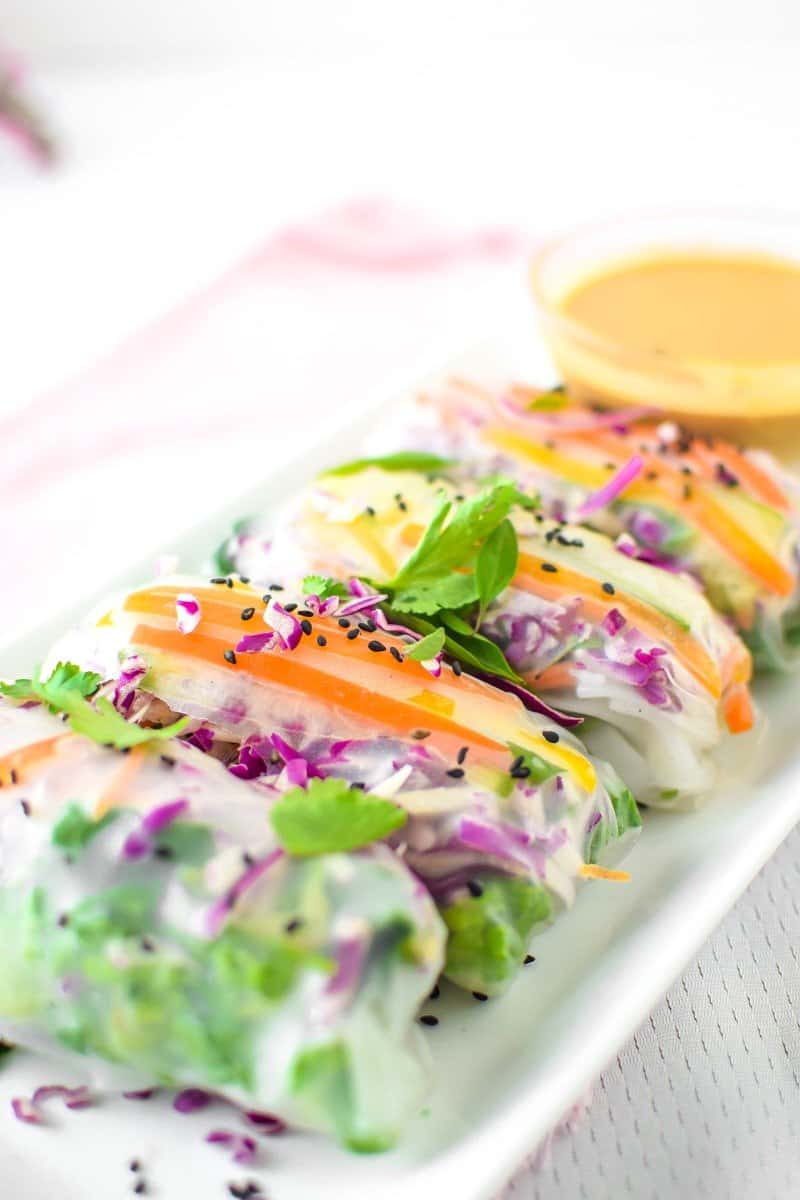 SPRING ROLLS CAN BE VEGAN OR NOT
It is entirely your choice whether or not to enjoy these spring rolls as a vegan or vegetarian dish, or as a high protein meal with the addition of ingredients like shrimp, fish, or chicken.
Making these fresh spring rolls is a great option for families who live with both vegetarians and omnivores because each spring roll can be made individually to reflect each person's preference.
Feel free to make a half batch of vegetable spring rolls, and a half batch of shrimp spring rolls to please everyone in the family.
SPRING ROLLS ARE NATURALLY GLUTEN-FREE
Many people adopt a gluten-free lifestyle for a variety of reasons, and it is helpful to know that these rice paper wrappers are completely gluten-free.
As long as you do not add any ingredients with hidden gluten, like traditional soy sauce, you can rest easy knowing that this dish is wheat, barley, and rye free.