The Anglesey coastline  |  
Photographer: Dan Kitwood/Getty Images
Chef Heston Blumenthal wanted a simple and consistent way to imbue risotto with a smoky flavor at the Fat Duck, his Michelin-starred restaurant in Bray, England. The most obvious way, he thought, was to start with the water. But there was nothing on the market.
He put forth a challenge: Make me some smoked water.
"For anyone else, you would say, 'No, you don't normally smoke water,'" said David Lea-Wilson, owner of an ingredients business in Wales. But for Heston Blumenthal? "You think, 'Actually, this guy knows more about food than I do. Let's rise to the challenge.'"
Lea-Wilson and his wife, Alison, developed Halen Môn Oak Smoked Water at the Anglesey Sea Salt Co. in rural North Wales. (Halen is the Welsh word for salt, while Môn refers to the island of Anglesey.) They believe it is the only natural product of its type out there. Some U.S. companies make a liquid smoke product using chemicals for flavor, they say.
Over the course of 10 days, the Lea-Wilsons send filtered tap water through loops that use oak chips and oak dust. The result is a whisky-colored liquid with the cleanest of aromas of burning wood. A 100 ml (3.5 oz.) bottle of Oak Smoked Water costs £4.10, though it's available for less online and from Harvey Nichols in London. By comparison, a bottle of Glenlivet Founder's Reserve Single Malt Scotch Whisky is available for £22, or £3.14 per 100 ml.
They started selling the product in 2013, and it's now starting to pop up all over the place.
At the Fat Duck, where the only option is a £265 tasting menu, smoked water features in at least a couple of dishes, including braised pork belly with a smoked coconut fluid gel.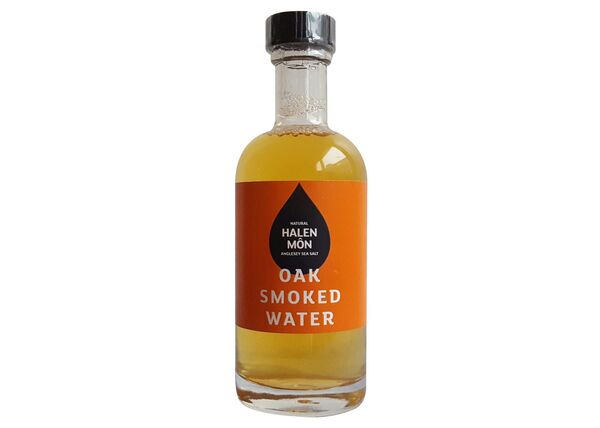 "[It] helps us to achieve a consistent level of smoked flavor in the dish so it is never overpowering," Fat Duck head chef Jonny Lake says. "We use it in most of our dishes that have a smoked element in them."
But you don't need to go to a fancy restaurant. Seven major food manufacturers put out at least 10 products flavored with the water, Lea-Wilson says. British retailer Marks & Spencer's bread range includes oak-smoked water sourdough, made with Halen Môn water.
Iceland, a British discount supermarket, created a smoked turkey brine that sold well, said Neil Nugent, the company's executive chef.
"We've also used it in barbecue marinades and sauces," he said. "I even use it at home, but you have to use it sparingly because it is strong stuff. I put it in an atomizer and spray it on."
You can use it in risotto and burgers, for sauces and soups and in mayonnaise. You can even make ice cubes to bring another dimension to cocktails.